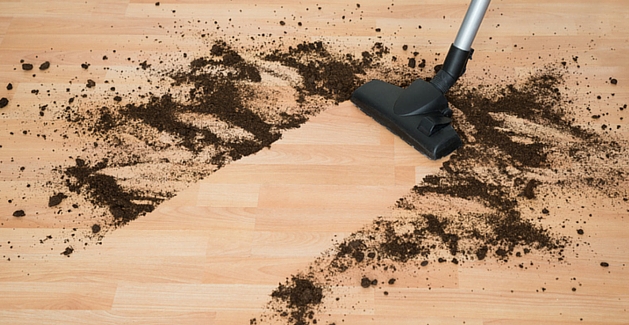 Hardwood flooring is a beautiful addition to any home because it's charming, visually appealing, and fits a variety of home design styles. When properly maintained, hardwood floors have the potential to last many years.
Whether you purchased new hardwood floors recently or moved into a home with existing hardwood floors, you'll love how quick and easy it is to care for your hardwood floors with our recommendations. To help you get the enduring beauty and longevity you want from your hardwood floors, follow our hardwood floor care tips.
How to Deep Clean Hardwood Floors
Start by moving any furniture or area rugs and vacuuming or sweeping the entire surface of your floors, using a wand attachment for any deep character knots to ensure all dirt and debris has been removed.

Check with your manufacturer to see their recommended cleaning solutions or products for your floors to ensure your cleaning doesn't damage the finish.

Follow the manufacturer's recommendations for diluting your cleaning solution and how much is necessary to deep clean your hardwood without causing any damage before testing your solution in a less noticeable area, such as a closet.

After testing your cleaning solution, start in the back of the room and mop towards the front, being sure to mop in the same direction as the wood grain until you've finished the room.

To keep your hardwood floors looking and feeling their best, we recommend deep cleaning at least once a month. By following the above steps, you'll be extending the life of your floor and enjoying new-looking hardwood for years to come. Be sure to start with less cleaning solution and add more as you need it to avoid longer drying times, which can be potentially damaging.
Best Tools to Clean Hardwood Floors
When it comes to hardwood and hardwood maintenance, you don't have to use tons of wood floor cleaners, cleaning solutions, or other homemade cleaning supplies. In fact, homemade hardwood floor cleaners and other non-recommended cleaners can damage the finish or void your floor warranty. It's important that you check with your hardwood manufacturer and the maintenance guidelines to ensure that you are not using cleaners that could cause damage to your floors or void your warranty!
Broom & Vacuum -

A broom and a vacuum are excellent tools to use on hardwood floors because they pick up loose dirt and debris. We recommend that you sweep or vacuum twice a week for the best results. Sweeping or vacuuming hardwood floors will ensure that your space is free and clear of loose debris that can be tracked around easily by foot traffic. Also, be careful when using your vacuum as vacuum wheels and beater bars can take a toll on wood floors or damage them.


Microfiber Mop -

A microfiber mop is another tool that is beneficial for cleaning wood floors. These mops are gentle and effective, and they pick up dust and allergens from crevices and seams. It's best to start with these tools and remove loose dirt before moving on to the next steps. High traffic areas like entryways, hallways, and stairs will see more debris, so take extra care when sweeping, vacuuming, or dust mopping these areas of your home.


Don't Use a Wet Mop -

We don't recommend that you use a wet mop with water or steam at any time. Hardwood is susceptible to warping when exposed to water, which means that damages happen quickly when using any water-based product to clean them.
How to Keep Hardwood Floors Clean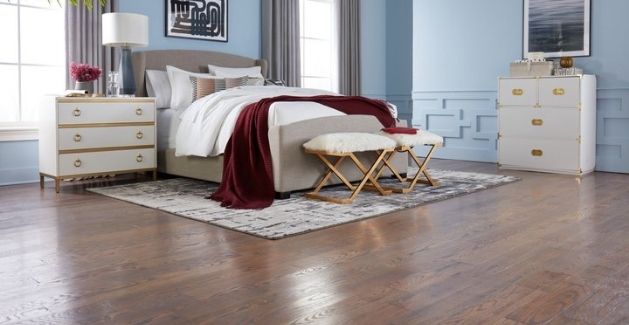 There are some easy steps you can take to make sure your hardwood floors stay clean.
Remove Your Shoes When Entering Your Home -

One of the easiest things you can do to keep your hardwood floors clean is to remove your shoes when entering and exiting your home. Rocks, gravel, and sand, among other materials, can easily get stuck in your shoes and be tracked around your home. Removing your shoes will help you and your family ensure that there is less of a mess.


Purchase an area rug to protect your hardwood floor -

With hard-surface flooring, one addition that adds not only warmth and comfort but also protection for your floors is an area rug. Area rugs will keep your hardwood floors from becoming faded, worn, and scratched, and they can be installed in many areas. Living rooms, bedrooms, and hallways are just a few areas where area rugs can change the look and feel of the space, but also protect your wood floors from the wear and tear of daily life.


Wipe Your Pets' Paws -

If you have pets, another thing you can do is wipe their paws when they come inside. Whether it's raining and their paws are full of water and dirt, or they seem to collect all kinds of mud, using a towel to wipe down your pet's paws will help you create a home that stays clean.


Always wipe up spills as soon as they happen -

Spills and accidents are common in any household. From pets to kids and even adults, there's no telling when water will spill on your floors. To ensure that your hardwood floors stay in good condition, always wipe up spills as soon as they happen. Standing water can damage wood quickly and should not be left to dry.