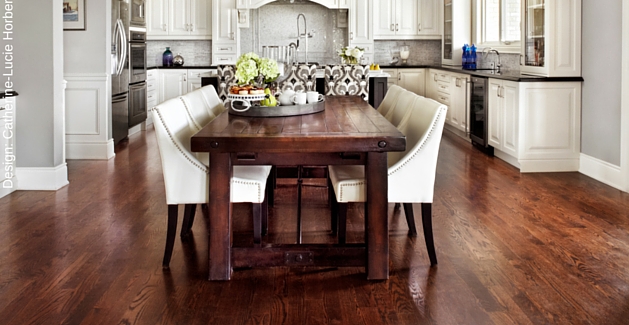 To ensure you select the best hardwood flooring that matches your lifestyle, budget and home design, take time to compare different hardwood floor types. Talk with an expert at your local Carpet One Floor & Home store to learn more about which type of hardwood flooring would best work in your space.
When choosing the best hardwood flooring for your room, you have the option to choose between solid hardwood flooring and engineered hardwood.
Traditional or solid hardwood flooring consists of single strips of wood. The biggest benefit to solid hardwood is that it can easily be customized, sanded, and re-stained to change finishes as your styles change.
Engineered hardwood planks come in many colors and wood types, just like solid wood. However, engineered hardwood is made by laminating 3-5 strips together, with grains running at different angles. Engineered Hardwood is more structurally sound so it can be installed in areas where solid wood flooring might not be an option, for example, moist basements. Engineered Hardwood is also typically less expensive and tends to be more water-resistant compared to traditional solid wood floors.