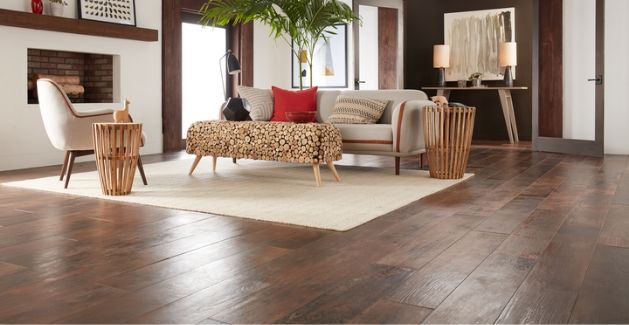 Hickory Hardwood
Is Hickory a Good Hardwood Floor?
As one of the hardest woods in the hardwood flooring market, hickory wood flooring is an excellent option for homes with active lifestyles. Known for its durability and contrasting colors, hickory wood is used to make tools like axes and hammers, and sports equipment such as lacrosse sticks. Hickory grows in Eastern North America, Eastern Asia, and the American Midwest. The trees can get as tall as ninety feet, and anywhere from two to three feet wide.
Hickory Hardwood Grain
The color of hickory hardwood floors varies greatly between boards, from light white to yellow, gold and brown. It's possible for one board to be an entirely different shade of yellow or brown from the next. It's also common for one board to have several varying colors. The grain is straight, with no irregularities, and has a coarse texture. A coarse texture means that it is not smooth to the touch when running your hands over the recently cut boards.
Hickory Hardwood Floor Stain Colors
As far as stain, hickory can be stained any color, but because the boards vary in color, the differences in natural tone can usually be more apparent. For a more rustic, country feel, the color variation in unstained or stained hickory is a positive addition to the cohesive home design. To show off the pure color of the wood, seal hickory hardwood floors without adding stain first. Like other hardwoods, hickory also changes tone over time, generally to a darker, more dramatic contrast.
Are Hickory Hardwood Floors Durable?
Hickory hardwood flooring is strong, sturdy wood and is not susceptible to scuffs, scratches or dents. An excellent choice for bustling, busy lifestyles, hickory does is not easily damaged by mishaps and the wear and tear of shoes. Another benefit of hickory hardwood floors is its structural integrity and ability to resist warping.
Shop Hickory Hardwood Flooring