Laminate vs. Vinyl Flooring
When it comes to choosing an oops-proof floor for your home, which is better? Vinyl or laminate? Choosing the right flooring for your home or business is a pivotal decision and in this comprehensive guide, we delve into the difference between laminate and vinyl flooring. When seeking the ideal balance between aesthetics and functionality, understanding the unique characteristics of vinyl and laminate becomes paramount.
How to Choose Between Vinyl and Laminate Flooring
Oftentimes when homeowners think about long-lasting, durable floors for their home renovation projects and new home builds, two flooring solutions are top of mind: vinyl flooring and laminate flooring. These floors are popular as they realistically mimic the look of natural hardwood and stone floors without the hefty price tag.
Although these flooring options have been described before as "faux wood flooring" or "fake hardwood flooring," laminate and vinyl both feature technological innovations that make each an outstanding choice, respectively. Whether you're looking to give your home a traditional, rustic look or open up the space with contemporary light wood floors, vinyl, and laminate are two dependable, budget-friendly surfaces worth exploring!
Now comes the hard decision: vinyl or laminate flooring? What are the advantages and drawbacks of vinyl vs laminate flooring? And, when thinking about luxury vinyl vs laminate, what are the most important factors to consider?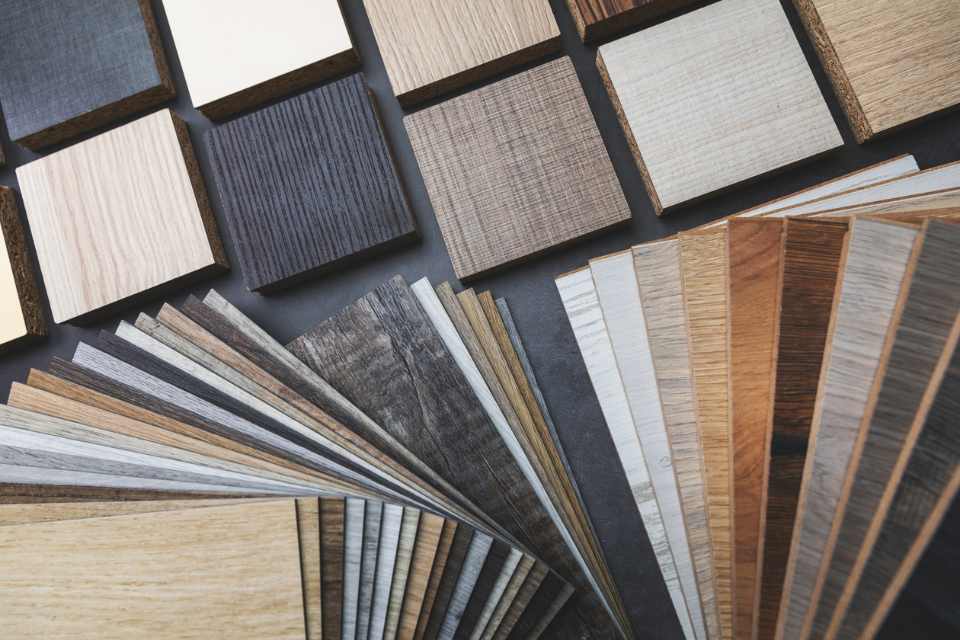 Let's start with the basics—their material compositions. Laminate flooring is often made from melamine resin and fiberboard material to form a multi-layered synthetic product. Designed to imitate the look of real hardwood, the top layer of laminate has imprinted texture imaging to mimic wood grain patterns and knot detailing. Vinyl is also a 100% synthetic material, but it's made from polyvinyl chloride with various compounds added to influence the colour, flexibility, hardness, and sheen of the product.
No matter what type of flooring product you end up choosing, ultimately, you need it to handle everyday life in an active home. Durable flooring products have grown tremendously in recent years, and there are unlimited options for affordable and easy-to-install designs. The choice between laminate flooring and vinyl flooring depends on your performance needs, budget and climate.
So, which one is best for your home? Here are some key differences to help in your buying journey!
Key Differences Between Vinyl and Laminate Flooring:
Vinyl Flooring
endless style options

available in luxury vinyl plank, luxury vinyl tile and sheet vinyl options that mimic natural hardwood and stone

ranges from good to extreme durability

suitable for high moisture environments with some products being 100% waterproof

low maintenance
Laminate Flooring
endless style options

available in wood and tile looks

ranges from good to great durability

water resistant so can withstand some moisture exposure

low maintenance
Pros & Cons of Laminate Flooring vs Vinyl
While a quick view will show that these are somewhat comparable hard surface products, there are nuances to each that will help determine which type of product you bring home. Let's take a deeper dive into how vinyl and laminate flooring differ.
Recommended Rooms
Both laminate flooring and vinyl floors will provide the look and durability of wood flooring in rooms not suited well for genuine wood. In addition to handling high foot traffic well, both options are a great fit for active homes with pets because they are resistant to scratches, water, and stains when quickly cleaned up. These characteristics mean that both vinyl and laminate can be used for dining rooms, living rooms, bedrooms, and offices.
However, it should be noted again that while some laminate products are water-resistant, most luxury vinyl is completely waterproof. In the rooms where moisture protection is needed the most such as kitchens, bathrooms, basements, laundry rooms, and mudrooms, waterproof luxury vinyl products excel to lock out liquid. Some laminate products are suitable for these areas, but they need to have testing guarantees and product warranties that back up their water-resistant claims.
Any room where standing water is likely to occur is not a good fit for laminate flooring! Appropriate laminate products are suitable in areas that may experience spills, but those will need to be quickly cleaned if they occur.
Ease of Installation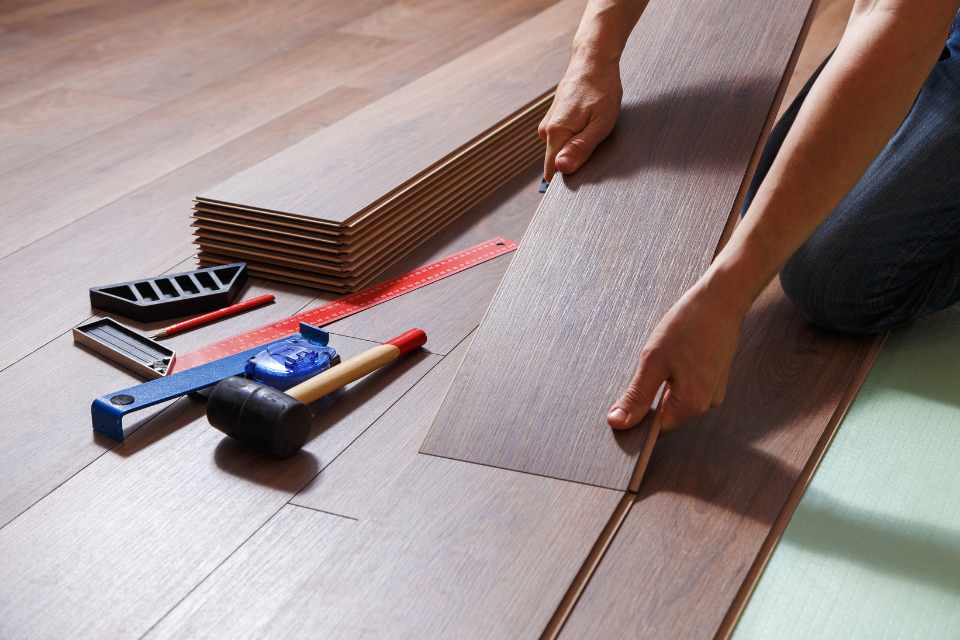 Both laminate and vinyl will offer much greater ease of installation than wood flooring. Laminate flooring can generally be installed as a floating floor for quick installation, where the planks easily 'click' together, and don't require nailing to a subfloor. Luxury vinyl, on the other hand, is not only a great fit for high moisture, high traffic, and below-grade areas, but it's also easy to install in any room in your home. With easy-to-use locking systems for floating floor installations, laying down LVT will not displace rooms in your home like installing a wood floor will.
Use wider, longer LVT planks to create the feel of a luxurious genuine hardwood floor when the installation is complete. While it might be tempting to try DIY installations with laminate or luxury vinyl planks, one simple mistake can put your floor out of warranty. Instead, we recommend relying on our professional installers here at Carpet One to save yourself the hassle and the headache!
Ease of Maintenance
When it comes to ease of maintenance, laminate and vinyl floors offer homeowners easy, effective clean-up in less time than it takes to maintain a solid hardwood floor. With laminate floors, sweep, dust, mop, or vacuum your floor daily using the hard surface setting to prevent the accumulation of grit from dirt that can potentially scratch the surface. Standing water on laminate flooring can cause swelling and warping, so it's important to wipe up spills quickly. Since laminate floors are not completely waterproof, you will not have the option of wet mopping your floors.
Waterproof luxury vinyl, on the other hand offers the comfort of wet mopping! In addition to providing a rigid texture for durability, your luxury vinyl surface can handle mopping with warm water. Sweep or vacuum your vinyl flooring as often as possible for easy preventative maintenance.
Occasionally when needed, treat your floor with a cleaner made especially for laminate care or vinyl care. Should either your laminate or vinyl flooring get damaged, both types of floors are often easier (and quicker!) to repair than most other flooring products.
Cost & Long Term Value
As with many decisions that homeowners must make, the cost will often be the ultimate deciding factor. Since solid hardwood is more expensive, both laminate and vinyl will be cost-effective hard surface options. A high-quality, thick laminate floor with valuable certifications will be more expensive, but will also alleviate the concerns that come with discount laminate from international manufacturers that don't have to follow stricter US guidelines.
Similarly, luxury vinyl flooring is typically more expensive than sheet vinyl or lower-end vinyl products, so take that into consideration when budgeting. Neither vinyl nor laminate flooring will add as much resale value to your home as solid hardwood, engineered hardwood, ceramic tile, or natural stone floors. However, if you need new flooring to make your home presentable before you sell, laminate and vinyl flooring are both excellent, quick options to spruce up the property.
What is Vinyl Flooring?
Not to be confused with the vinyl flooring options that originally came to market decades ago, today's vinyl flooring has been revolutionized and has the market growth to prove it! Vinyl falls under the 'resilient' flooring category and true to its label, vinyl flooring possesses toughness and the ability to bounce back under pressure.
Featuring elasticity that can handle foot traffic with ease and better cushion dropped items, vinyl flooring options are comfortable underfoot and resist dents and cracks admirably. In particular, luxury vinyl has delivered on the performance and fashion of both hardwood and stone at a cheaper price tag, while providing the benefits of resilient flooring.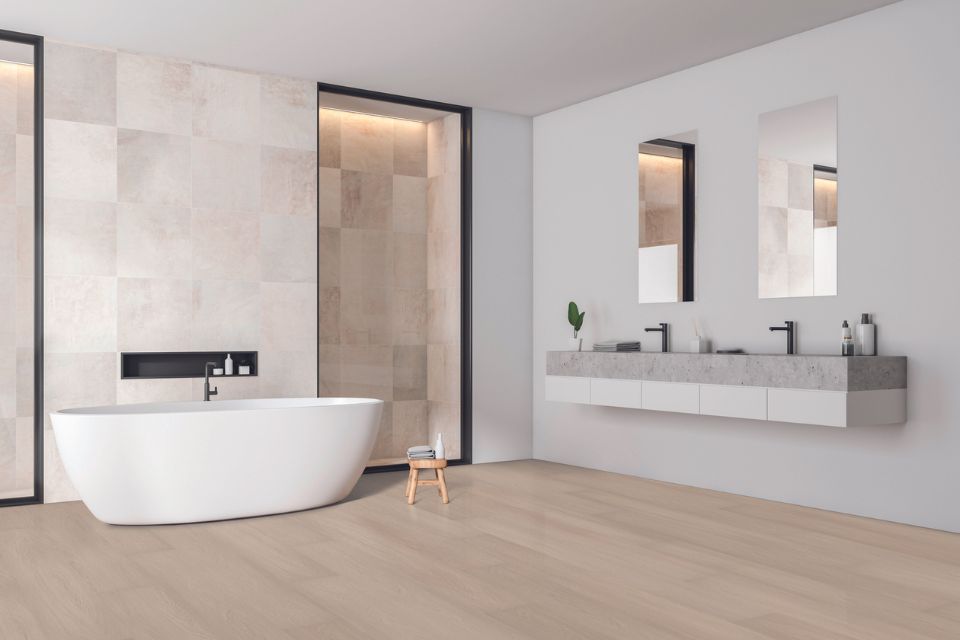 The key to vinyl's surge in popularity is a winning combination of durability, style, affordability, ease of installation and maintenance, and ultimately, overall versatility. Builders and designers are using luxury vinyl plank, luxury vinyl tiles, and sheet vinyl to complete projects quicker in both residential and commercial applications.
In addition to hardwood, vinyl is also used to emulate the look of natural stone with impressive texture, depth, and realism. Another benefit of designing with luxury vinyl products? They are inherently waterproof! While other flooring types have improved in moisture resistance and protection, vinyl has always been among the best at handling liquid spills. Now that some modern vinyl options have enhanced rigid top layers for greater durability and are suitable for high-traffic areas, there's a great chance that you will find a stylish vinyl option to fit the needs of your home.
Luxury Vinyl Flooring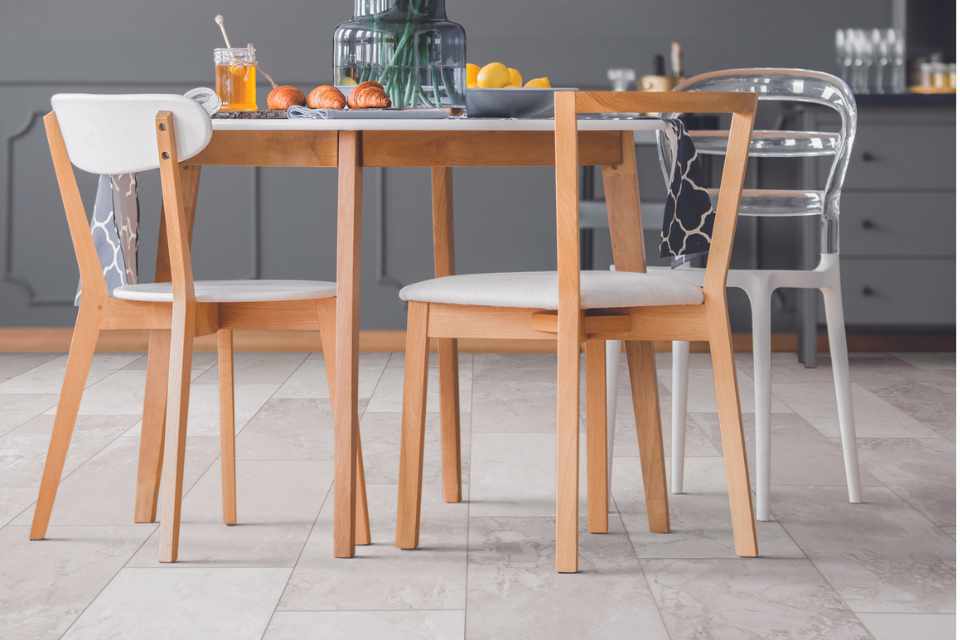 Without a doubt, luxury vinyl flooring is officially here to stay as one of the most popular flooring options available on the market today. Luxury vinyl flooring can be split into two categories: luxury vinyl plank (LVP) and luxury vinyl tile (LVT). A far cry from the vinyl and linoleum options that some still think of at the mention of vinyl, luxury vinyl is delivering on the design front in a major way.
Homeowners are praising luxury vinyl for its ability to realistically mimic hardwood and stone in the latest, hottest trends. In addition to authentically capturing the look of reclaimed and petrified wood, LVT can also provide the high-end style of marble and travertine. LVT planks come at a much lower price while remaining easier and quicker to install and repair, warmer and softer underfoot, and versatile enough to handle high moisture and high traffic with ease. It's safe to say that LVT has a lot going for it!
Vinyl Plank Flooring
Designed to give your floors the appearance of hardwood floors without the cost, vinyl planks offer much greater stain resistance and easier to maintain than traditional hardwood planks. Even though vinyl plank is engineered as an economical alternative to real hardwood, this format has improved over time to accurately replicate different wood species, colours, and textures. Whereas natural wood is not a water-resistant flooring type, vinyl planks are waterproof and each individual plank can be sealed to help prevent moisture from seeping through the floor.
What is Laminate Flooring?
Widely acknowledged as a more affordable, easier-to-maintain alternative to wood flooring, laminate flooring is technically a composite wood product with durability dependent on the quality of the construction. Typically, a laminate plank is constructed with a bottom layer to provide stability and moisture resistance, middle layers of synthetic fiberboards for strength and durability, and completed with a rigid top layer that's designed to mimic either hardwood or stone. Laminate planks are coated to protect the printed image and design, which, unfortunately, will prevent homeowners from being able to refinish their floors.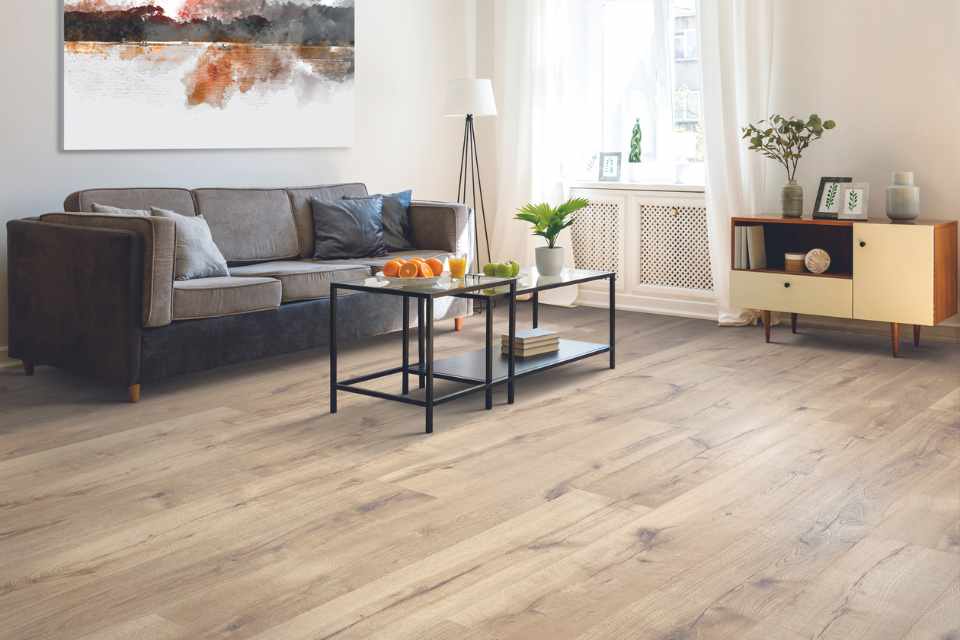 Similar to LVT, the realistic textures and embossing on laminate products have improved over the years, along with the quality of materials and innovation in construction. It should be noted that all laminate flooring options are not created equal: Laminate options on the lower end of the cost range will not perform as well as laminate products with the NALFA (North American Laminate Flooring Association) Certification Seal.
Laminate flooring is indeed a budget-friendly choice, but it is wise to spend money on a quality product that can back up its tested claims as opposed to 'the best deal' that you find price-wise. While exact pricing will depend on factors including the size of your home, where you live, and of course the product selected, installing laminate floors, on average, costs about half as much or less than the cost of installing hardwood floors.
When it comes to handling moisture, laminate flooring is indeed water-resistant but not completely waterproof. Laminate is definitely better suited than hardwood to handle liquid spills, but the liquid that permeates below the surface can cause serious damage like mold and warping. If your laminate flooring is damaged by moisture, it has to be replaced. That being said, many laminate products come with a 10-year warranty, and attentive care will ensure that they serve your home in the 15 to 20-year range.
Which is More Expensive: Laminate or Vinyl Flooring?
When it comes to the lvp vs laminate debate, you might be asking which is more expensive? Truthfully, both products are pretty comparable in cost as both are less expensive options than other flooring materials like hardwood or porcelain tile. Vinyl can be pricier, though, especially if you're exploring luxury vinyl options. A good general rule of thumb is as the quality of luxury vinyl products increases, so does the price tag.
When you are ready to receive a laminate or vinyl cost estimate, you can submit a Free Estimate Request Form to your local Carpet One Floor & Home store and begin creating your new favourite rooms!