Best Vinyl Plank Flooring
The best vinyl flooring can complement a variety of lifestyles and tastes. And, because vinyl is so versatile, it can be used in many areas of your home. Living rooms, bedrooms, entryways, and kitchens can all benefit from the use of vinyl flooring. But what is the best vinyl plank flooring for your room? The answer to that will highly depend on your budget, interior design style, lifestyle, and area of installation. Depending on the answers to all of these factors, you will be able to learn more about what the top luxury vinyl flooring is for your specific room. No matter your space, vinyl flooring is a great option when it comes to durability, water-resistance, and beauty.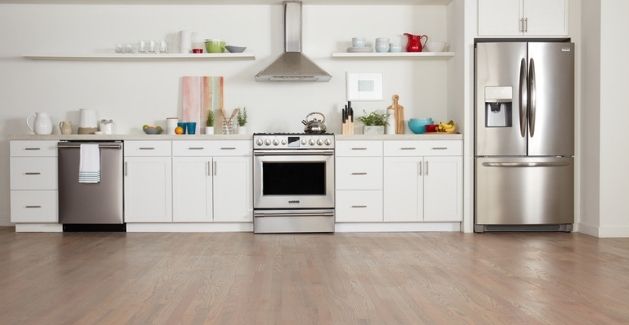 The best luxury vinyl plank is a product that is durable enough to handle your home's needs, fits your budget, suits your interior design style, and can be installed in the area you'd like to install it in. The best vinyl plank flooring options have increased stain and wear resistance and feature a tough construction that is made to last, even with kids and pets.
The best vinyl plank flooring also does a great job of mimicking the look of hardwood with realistic visuals. High-quality luxury vinyl has a greater number varying planks that don't repeat as often and look more like genuine hardwood than other vinyl styles out there on the market. More variation in luxury vinyl planks means that there are less likely to be repeating patterns throughout your installation, which is why the best vinyl plank has more unique planks included.
The best vinyl plank flooring on the market today is also waterproof. With a seal that keeps spills and accidents from seeping below the top of the planks, this is a crucial feature for any home! Top luxury vinyl products will have waterproof features that will help keep your home low-maintenance for years to come!
Best Vinyl Plank Flooring Brands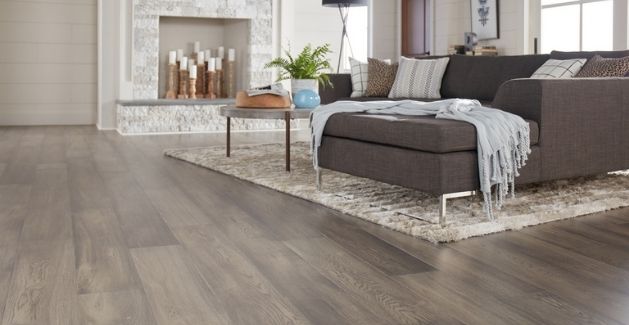 There are many vinyl plank flooring brands out on the market today, but the best vinyl plank flooring brands offer vinyl plank flooring products that feature incredible wear and stain resistance, water-resistance, and beautiful visuals. Carpet One Floor & Home's Invincible™, Invincible XT™, and Invincible H2O™ products are superior luxury vinyl flooring options that are some of the best vinyl plank flooring products on the market today. With enhanced features like Invincible XT's™ solidcore construction and Invincble H2O's™ waterproof protection, there's no better reason to choose Carpet One Floor & Home for your luxury vinyl flooring project.
Top Luxury Vinyl Flooring Recommendations by Room
Best Vinyl Plank Flooring for Living Room
While living rooms typically don't see as much daily traffic or moisture, it's just as important to invest in a luxury vinyl product that suits this space as in other rooms. That's because you likely spend a lot of your time in your living room space. It's a place where many families gather and spend time together during the day. Luxury vinyl is often chosen because it is so low-maintenance, and that should be no different when installed in a living room. The best vinyl plank for a living room stands up to your home's lifestyle and keeps your space easy to maintain. Invincible™ and Invincible XT™ are both ideal options for your living room thanks to their durability, beautiful looks, and low-maintenance. Plus, there are many styles to choose from, so you can get just the look you want.
Best Vinyl Flooring for Kitchen
Kitchens are full of food and liquid mishaps and accidents. And, with the high amount of moisture in kitchens, the best vinyl flooring for a kitchen is Invincible H2O's™ luxury vinyl planks that are waterproof. These vinyl planks are ideal for a kitchen thanks to their durable construction and ability to lock out all kinds of liquids. Have peace-of-mind knowing that you're choosing the best vinyl for your kitchen with Invincible H2O™ by Carpet One Floor & Home.
Best Vinyl flooring for Bathrooms
Because of the amount of moisture in bathroom areas, the best vinyl flooring for bathrooms is one that is waterproof. With waterproof luxury vinyl plank flooring, you won't have to worry about water or moisture ruining your flooring installation. Carpet One Floor & Home's Invincible H2O™ is a waterproof luxury vinyl flooring that is best for areas like bathrooms. Not only is it a great option for bathrooms because it is waterproof, but Invincible H2O™ also offers a wide variety of wood-look styles to choose from to suit your specific design!