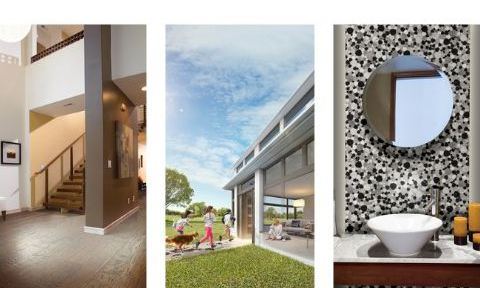 In this day and age, we have the design capability to capture any incredible vision we wish to create indoors. When it comes to flooring, you don't have to gravitate towards traditional visuals or skimp on style due to budget concerns. Modern flooring trends have created a wealth of options for homeowners and interior designers alike to being rooms alive with fashion and function. Every timeless flooring option still experiences new visuals and popularity surges, while innovative surfaces are continually being introduced and used in exciting ways. Here are some of the modern trends that are turning heads and making a major impact in home décor:

Hardwood has always been a favorite choice of homeowners and we don't see that popularity waning any time soon. Who can resist the durability, style and natural beauty of hardwood flooring? What we have seen in modern times however is the steady rise of bamboo flooring as a savvy option for those who cherish wood floors. In addition to providing a vast array of colors, patterns and grains to design with, bamboo is a reasonably priced alternative to the oak and chestnut varieties that can be more expensive. Since bamboo is one of the fastest growing plants in the world, these floors come from a renewable source which is better for the environment. Many of today's flooring shoppers love this valuable combo of style and sustainability that bamboo flooring can provide, but in some climates, bamboo might not be the best option since it tends to absorb moisture more than hardwood.

Carpet still remains the most popular flooring option on the market, but that doesn't mean that manufacturers are resting on a storied history and not working on technological advancements to produce new carpet trends. Wall to wall carpeting will produce your standard lovely living room, but the rise of carpet tiles are allowing designers to craft bold carpet creations. Modern carpet tiles have evolved to offer a huge range of colors and patterns, provide terrific durability, and are made from easy-clean materials. Such options allow creativity to flourish, where designs can mix different colors and pattern directions for unique carpeted rooms. In fact, carpet tiles are allowing pops of soft style to be introduced in non-traditional rooms for wall to wall carpet. This theme of versatility is another common thread found among many modern flooring trends.

When it comes to style, a resurgence of black and white, art deco inspired interiors has become a modern trend with a nod to the past. Flooring materials such as tile, vinyl, stone and marble make this 80's influenced block flooring easily achievable among many different price points and textures. If you want to use this somewhat brave direction as a foundation for an unforgettable room, these floors look exceptionally bold when paired with another popular trend of using home furnishings that feature matte black metal. A black and white patterned floor looks equally awesome with home furnishings of wide, varied colors and patterns for funky, hip areas that are anything but predictable.

Many homes feature concrete subfloors- But have you ever thought of showcasing a concrete floor as your primary surface? Modern flooring trends have shown that more daring homeowners are looking at concrete beyond garages and basements. In fact, concrete is being used to create bold kitchens that play off of natural wood cabinetry and polished chrome appliances perfectly. In addition to being moisture resistant, concrete is sustainable, low maintenance, affordable and long lasting. You may only think of grey color when it comes to concrete, but glossing, acid staining, color overlays and texturizing will add major style and can be done quickly. Concrete floors are perfect for making your home décor pop and adding a cool industrial edge to modern homes. If you're ready for the concrete look but not quite ready to make your subfloor your primary floor, there are also tile and luxury vinyl products that mimic this modern look.

Many homeowners have learned that cork is not just for wine bottles anymore: cork flooring definitely works for fashionable modern kitchens as well. Cork immediately adds visual interest and texture in kitchens, as well as comfort underfoot and warmth. Since your kitchen is a high-traffic area and will need moisture resistance, a cork floor has to be sanded and polished in order to perform how you need it to. Luckily, cork is an outstanding affordable option that is still cheaper per square foot than most flooring choices, even after these preparation steps are taken care of. With more and more owners taking environmental concerns and allergies into account when shopping for flooring, cork offers a renewable flooring type that also has valuable antimicrobial properties.

The key to keeping up with modern flooring trends is to commit to the vision you have and the surfaces you love, and will love for many years. Flooring is a major budget investment and you live with that investment every day. Capture the personality you want for your home or rooms and you will always be happy with your decisions. Don't be afraid to use a room visualizer to play around with flooring ideas you might not have originally considered- You may just stumble upon the dream room that you will love and love to show off!