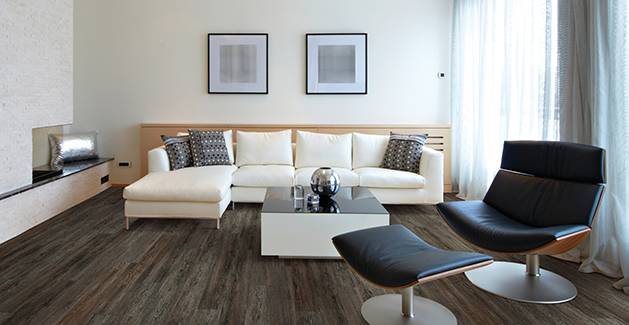 When it comes to versatility, no other flooring type will be able to top vinyl flooring for its all-around combination of attributes and ability to be installed virtually anywhere inside the home. Nothing is quite as durable, stylish, easy to clean and easy to maintain quite like vinyl - and, at an affordable price. Although vinyl has been around for generations, today's technology has created luxury vinyl tile with modern, trendy options that mirror natural stone and hardwood flooring with realistic looking textures and great visual depth. And since vinyl flooring is well equipped for high moisture areas and high traffic areas, you really can have these attractive looks throughout your home!
Once you've decided that vinyl is right for your home, it's time to explore the different types of vinyl to see which is the best fit. Think about whether you want your vinyl flooring to resemble hardwood, stone, or tile. Since all vinyl floor types are relatively easy to install and suitable for a variety of conditions, let your design creativity run free.
Think vinyl flooring is right for your home? Let's explore the different types of vinyl flooring available:
Vinyl Plank
Designed to give your floors the appearance of hardwood floors without the cost, vinyl planks offer much greater stain resistance and are much easier to maintain than traditional hardwood planks. Even though vinyl plank is engineered as an economical alternative to real hardwood, this format has improved over time to authentically mimic different wood species, colors and textures. Whereas natural wood is not a water resistant flooring type, vinyl planks are waterproof and can be sealed to completely prevent moisture from seeping through the floor.
Vinyl Tile
A great type of flooring for do-it-yourself projects, vinyl tiles consist of individual squares of various size that, when assembled, give the appearance of stone tile. One of the benefits of having individual tiles is that they're easier to replace when one is damaged. You can also use vinyl tile flooring to arrange a pattern, which will further enhances the resemblance to ceramic tile and stone. Have a weekend coming up that you set aside to redo the bathroom? With peel-and-stick installation, you can easily complete these transformation using vinyl tile. Pro Tip: You can add grout to fill between the vinyl tiles to make your ceramic visual even more realistic.
Vinyl Sheet
Vinyl sheet flooring is a single roll of flooring usually 6 to 12 feet wide. Vinyl sheet tile limits the number of seams dramatically and is therefore a great choice for high-moisture areas like bathrooms and kitchens. With greatly improved printing technology over the years as well, sheet flooring can be created to provide stone, tile or hardwood visuals. Vinyl sheet is durable, affordable, low-maintenance and can be installed over concrete, tile, wood, old vinyl or underlayment. If you require extreme durability from your sheet vinyl floor, go with inlaid vinyl: It's thicker, more durable, and hides scratches better.
Luxury Vinyl Tile
For the design-conscious shopper, luxury vinyl tile or LVT will capture the same stylish trends found in natural stone and hardwood planks. From traditional, rustic and exotic woods to modern industrial designs inspired by both reclaimed and petrified wood, you can find the genuine look you love at a valuable price. Similarly, LVT can deliver the high-end looks of travertine and marble without breaking the bank, but it's also warmer and softer under-foot.
No matter what format or style of vinyl you have your eyes on, you need to choose a sturdy wear layer if your tile is going into high traffic areas. Typically, the wear layer is the urethane-based top coat and finish of vinyl flooring that provides the defense for an active home against scuffs, dents, scrapes and stains. The thicker the wear layer, the more durability your vinyl floor will provide over time. Among the different types of wear layer, vinyl no wax is the entry-level surface that will offer some resistance to scuffs and stains. Urethane is more durable and low maintenance compared to vinyl no wax and has more resistance to black heel marks and most household chemicals.
The best part about designing with vinyl, is that the large selection of designs, formats, and colors all but guarantee that you will find a style you love. And if you had any desire to take on a DIY flooring project, or you are ready to attempt your first, installing a vinyl floor is about as painless as flooring options come. Have you been putting off finishing the basement for years now? The ability to install below-grade and the overall easier installation means you can get the job done with minimal stress. When you're ready to get started, just contact your local Carpet One Floor & Home store to work directly with one of our helpful flooring experts and let the vinyl journey begin!