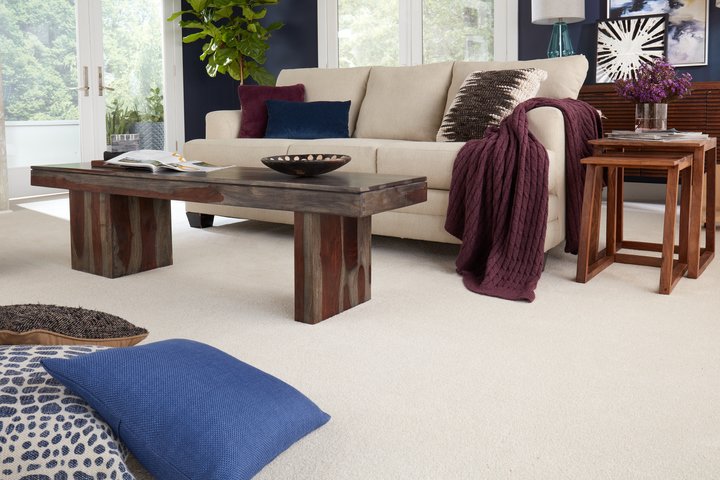 If there's one room in the household that many homeowners may design specifically around earning an impressed reaction from guests, it's the living room. With the primary function of this living space being to visit, host and enjoy your time, it would make since then that we pay a little extra attention to our living room floors. Whether your living room is a pristine area reserved for mostly special occasions, or a more relaxed family room that will see much rest and relaxation, there are numerous sound flooring options to fit your needs. The best type of floor for your living room will match your design vision with the specific traits that your home requires.
Here are some of our favorite options:
There's nothing like supremely soft wall to wall carpeting to create a luxurious, inviting feel inside a warm, attractive living room. Depending on the level of activity you anticipate in your living room, you may opt for a specific type of carpet. With kids and pets in the home, it is probably wise to invest in an easy to clean carpet engineered to be stain resistant like Innovia Xtreme Clean™ that cleans up most spills with plain water. If you are preparing for heavier foot traffic in your living room, LEES® featuring Ultra25® is the perfect blend of science and style combining ground-breaking stain protection and ultra-durable construction with a broad array of styles to choose from. Just because you have a fun, energetic family, doesn't mean you have to avoid carpet at all.
If you want to install eye-catching carpet that's sure to leave a lasting impression on all who visit, Tigressá® Cherish offers a satiny smooth feel with all of the performance benefits of the finest nylon available in today's carpet. Utilizing an innovative yarn engineering system with advanced color technology, Tigressá® Cherish provides nature-inspired hues that will not fade over time in your living room. For the richest, most striking shades to work with, Tigressa® SoftStyle is a premier all-nylon carpet with a unique fiber design that protects each fiber and allows for deeper, longer-lasting color. Match the color palette you love with your favorite carpet texture, then determine the attributes you need the most from your carpet, and your living room will become a soft surface paradise.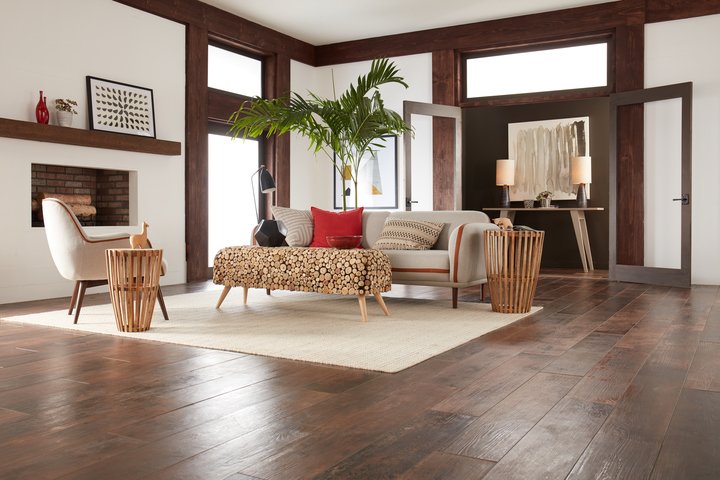 When it comes to researching hardwood floors for your living room flooring, there are again a multitude of visuals and characteristics to select from. If you love rustic wood floors that present the richness and warmth of seasoned, weathered hardwood, Rustic River™ Hardwood is an inspired collection that features bold, scraped textures, traditional colors, and intriguing shade variation. To capture the authentic color, detailing, and grain of natural wood, the Rustic River collection utilizes the most advanced milling and finishing techniques to produce a whole new level of visual clarity. Solid hardwood planks will require proper installation that may be expensive, but you will have the ability to refinish your floors over the years. An engineered wood floor is made of multiple layers of wood to create a more stable floor with the same beautiful look as solid hardwood, but you may have less ability to refinish in the future. Even if these flooring materials are more expensive per square foot, wood floors are a true investment that will serve your living room admirably for decades of high wow factor.
You are certainly not limited to carpet and wood floors when designing a dazzling living room- there are many other flooring materials that are sure to impress. Stone flooring will allow you to create unique floors with mixed-size tiles for opulent patterns and timeless beauty. Various natural stone options like slate, travertine, and marble give living rooms a high-end look with elegance and character. To make rooms feel grander, you can even utilize larger stone tiles to make rooms visually feel more spacious and bigger than they actually are. Stone options may be more expensive to purchase and install than others, but you will in no way be short-changed on style and impact!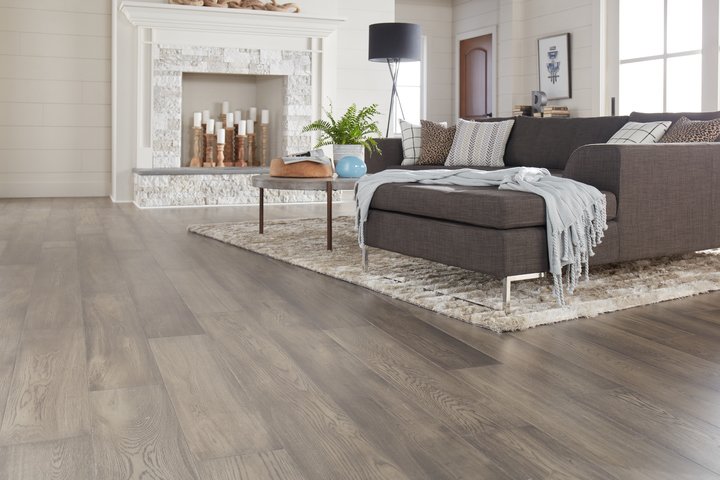 If you are looking for an impressive living room floor that won't break the bank, luxury vinyl flooring will capture the same stylish looks from traditional, rustic, and exotic woods to modern industrial designs at a valuable price. Timeless porcelain tile will help you create a living room floor with a similar impact as stone, that's also extremely durable, color consistent, and never goes out of style. If you want an affordable living room floor that truly makes a statement, concrete floors are rising in popularity, and for good reason. Concrete plays off of other surfaces and textures beautifully, is low maintenance, moisture resistant, and can be customized with staining and color overlays.
Designing a living room is all about capturing the vision you have while balancing the needs of your home. Let your imagination explore the possibilities and come away with a space that you will always be proud to showcase!